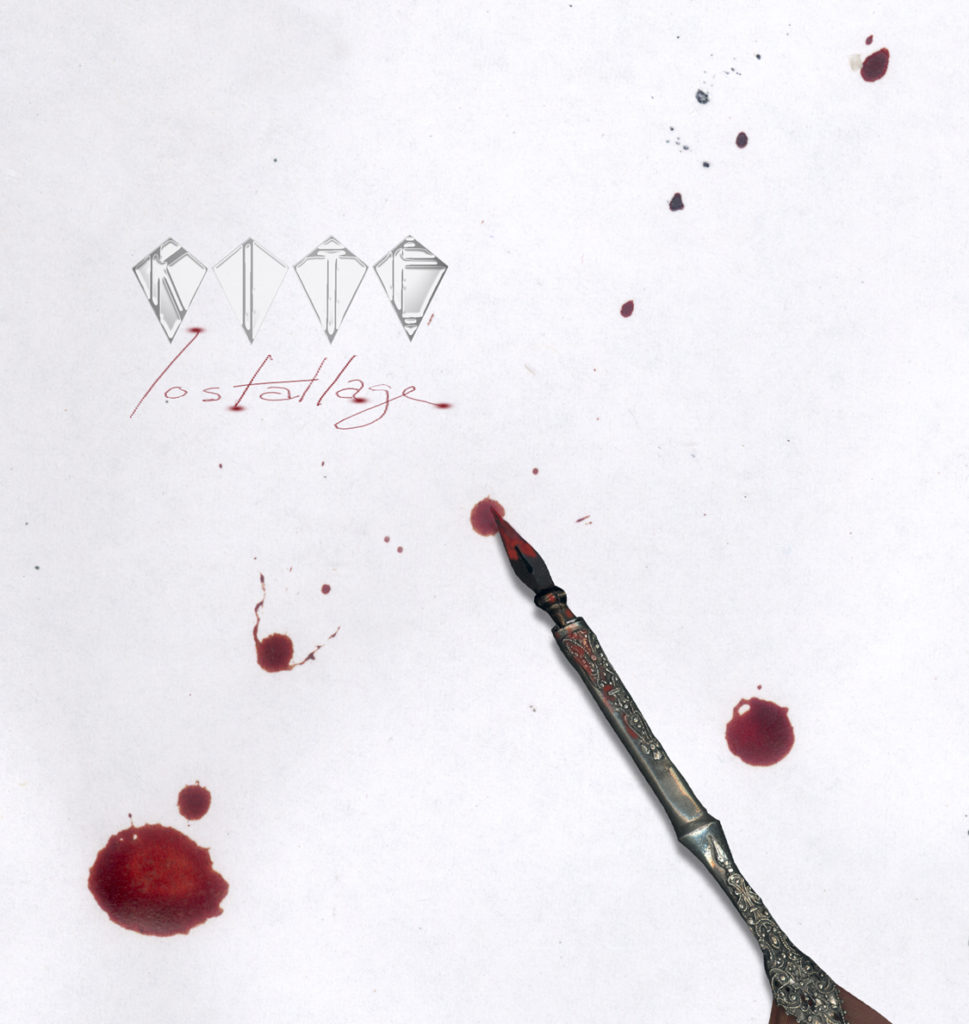 Most of Kite's progressive rock-flavored songs feature lyrics written by drummer Michael Koep and music composed by guitarist/vocalist Monte Thompson. The soft-spoken, eloquent Koep took an ambitious approach to the lyrics on their latest CD "Lost All Age" and wrote all the songs in formal 14-line sonnet form. This created challenges for the earthy and urbane Thompson, but the end results are songs with complex and satisfying arrangements that serve as perfect vehicles for Koep's intriguing poetry.
Thompson describes their music as being, "about trying to create something with artistic merit… something that will hold up in 50 years and still seem worth listening to."
Koep echoes these sentiments. For him, Kite is about artistic expression-not just showing off behind his drum kit. What drives him to create is the desire to compose something emotionally powerful and meaningful.
Kite succeeds in this mission. Most musicians either excel at musical performance, but have a hard time writing songs, or they can write memorable lyrics but they lack technical proficiency. It is a special thing to discover a band that is strong in both areas. Kite transcends the boundaries of conventional rock to create something that, as Koep likes to say, can truly be considered art.
Thompson's lush ambient textures and brash, distorted rhythm guitar parts blend well with Koep's creative, powerful drumming. Thompson and Koep are joined by left-handed electric guitar wizard Scott Clarkson and bassist Darren Eldrige. Clarkson plays in a more straightforward blues-based rock style that adds dashes of Eric Clapton, Jimi Hendrix, and Pink Floyd to the eclectic mix. Instead of playing a strictly supportive role, Eldridge adds propulsive melodic fills that create tension in the music that contrasts nicely with the tonal colors created by his band mates.
Some of their music almost sounds like jazz fusion while other songs could be classified as heavy metal. The range and scope of the band's music fits together beautifully behind Thompson's smooth and soulful tenor. They also do a great version of the Beatles' "Paperback Writer." Kite is quite possibly my new favorite band.
Get in on the ground level with Kite now so you can tell everyone that you were a fan before they started selling out arenas.
Brian Tripplet, Eastern Washington Review
TRACK LISTING
ASLEEP ON THE WICKER CHAIR IN THE BACK YARD
APPLE WINE
STAIN
STOP WATCH
POSITION
IN JUDE'S STARE
THE STUDENT
THERE, A LABYRINTH
HOLD MY TONGUE
MATERNITY WARD
LATE IN LIFE, LOOKING †
SKYWATER
THE GRID
AWAKE IN THE WICKER CHAIR IN THE BACK YARD †
LINER NOTES:
Kite is:
Scott Clarkson: lead guitar, acoustic guitar, vocals
Darren Eldridge: bass guitar, acoustic guitar, vocals
Michael Koep: drums, cymbals, hand drum, bass guitar, vocals
Monte Thompson: vocals, acoustic and electric guitars, sythisizer
Music by Monte Thompson
Sonnets by Michael Koep
except † music by Thompson/Clarkson
Music arranged by Kite
Additional musicians:
Opening vocals: Gerry Koep. Bass guitar: Doug Smith, Greg White, Scott Haynes. Keyboard sounds: Dave Dupree. Oars and water slap: Lisa Koep. DJ: Jim Arnold.
Produced by Kite and Scott Haynes
Engineered and mixed by Scott Haynes
Recorded at Color Sound Studios, Spokane, WA
Between September 2002 and May 2003.
Kite Logo by Jason Williamson
Art direction by Koep/Thompson
Cover Painting by Koep
Those that find us when we're lost:
Uncle Stan & Aunt Jolynn Koep. Jeff Hagman. Joe Linch. Craig (Shokie) Shoquist & Snortie Milkshakes. Bobbi Frey. Bob & Jen Kelly. Cherie Ross. Ken & Diana Koep. Geri & Walter Perkins. Bob and the Bean. Mom Eldridge. Barb Miller & Tami Clarkson. Eric and Laurie Wilson. Professors: Daniel Butterworth, Michael Herzog, Tony Wadden & Michael Bonin. Bob Burdett. Dave & Heather DuPree. Cary Beare. Kristen Haynes. Michael Thompson & Shanna Ascher. Terry and Dione at the Long Ear. Cristopher Lucas. YT. Gabe Burdett. The Heren Sindaril. Root, Mosquito, Seed & Hisimë. Kevin Daymont. Slo Motion Walter. The Head of Beef Band. Manito. Hermit. Mulligan. Greg Johnson. David Marx. Rex Rinaldi. Chris White. Bill & Janet Sherman. Sandie & Blue. Lisa & Steve Troxel. Jet Pagano. Tracy Williams. The Iron Horse. Justin & Christine Pierson. Robert Westcott. Bill and Jewlee Novo. Guy Gigman & Anna Gonzales. Geoff Lord Alge. Jake McClure. Calvin Langley. Andrea Brockmeyer. Daniel Brock. Terry Jones. Splimbot Gogahnis. And finally, all of our friends and family.